Planning to buy High-Pressure Blowers, but you don't have an idea about which type to purchase. You are here to learn about high-pressure blowers and their different types. We have done deep research to prepare this simple guide to share relevant information about high-pressure fans. If you are willing to learn, keep reading this blog post.
What are High-Pressure Blowers?
High-pressure blowers are also known as force draft high-pressure fans. They are design for continuous-duty industrial applications with high static pressure and low airflow. It offers clean particulate air. Also, It is adaptable to hot, sticky, and abrasive airstreams.
High-pressure fans are made with durability and fully welde material. It offers superior quality service because of the superior-quality materials use in it. It can be of various types of materials, including fiber glass. However, you should know for what purpose and situation you need high-pressure aka centrifugal fans. It can be use in hot, corrosive, particle-filled, and environmentally hazardous procedures.
Common Applications for High-Pressure Fans and Blowers
High-pressure blowers are use for various applications. It is a cost-effective solution for many industrial activities. Check how high-pressure fans can be use:
l  Combustion Air: For a variety of uses, such as in boilers, furnaces, and ovens, high-pressure fans move air to combust/burn fuels.
l  Pneumatic Conveying: Fans transport a variety of items, including cereal and wood chips. Our high-pressure blowers help with this process.
l  Selective Catalytic Reduction: High-pressure blowers are easily customize depending on industry and application. It is also use for SCR due to its custom features.
Factors to consider before buying a High-Pressure Blower:
We have list common factors that can help you to buy the appropriate high-pressure fan or blower for your application. These points will guide you on how to choose the blower and what to look for features:
Place of application:
It is crucial to consider where and how a blower fan will be use before making a purchase. While certain types of fans are made for heavy industry outdoor use, others are made for inside use. So be sure to consider the setting that the fans are intend to work in. No matter if they are to be use in a dusty, damp, or hazardous environment, you will be able to decide what specific blade types can only be utilize if you know where they can be use.
Flow capacity:
Flow capacity is an important consideration when picking an industrial blower fan. Having a higher flow capacity could be advantageous in a high-performance setting. For example, high evaporation is require for faster evaporation when using air knives to scrape products.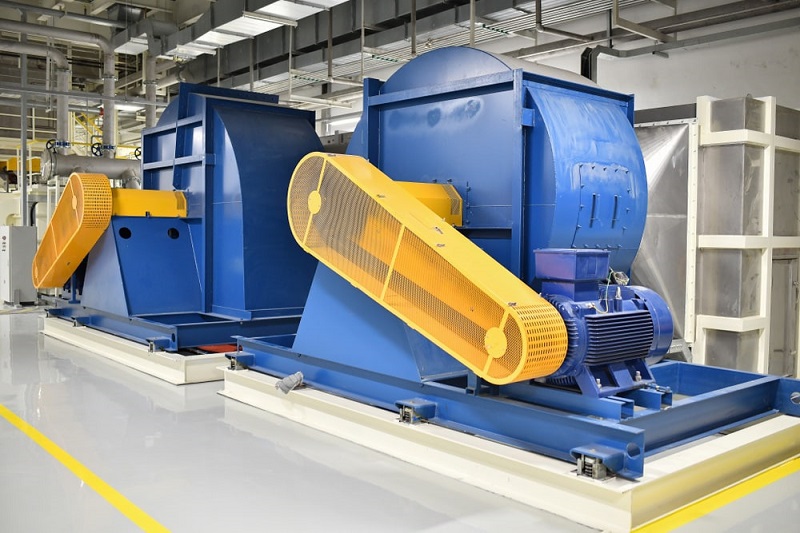 Blade type:
Considering blade types is crucial before choosing any high-pressure blower. It offers greater efficiency for large air displacements. If you choose forward curved fans, the blower helps to provide low pressure and is capable of moving a greater volume of air. If you choose backward incline blades, it offers high pressure and can move less volume of air. Self-cleaning radial blades have a paddle construction. They are excellent at handling filthy material.
Pressure:
 Checking the operating pressure of a blower is also very important before buying one. Greater air displacement and movement are possible at higher pressures. Inches or millimetres of water volume are use to measure a high-pressure blower's working capacity.
Cost:
The last step is to check the price of the high-pressure blower. You must consider the price of the blower fan when you buy it. It is natural to check all the available blower option and their prices. Checking their cost is the smart way to make the final decision. However, the fan's cost varies depending on its style, technology, features, and settings. The expenses will be add based on whether you want to use it indoors or outdoors.
Select the Right Type!
For heavy industrial, picking the correct Blower fans is crucial. It is intend to manage the temperature environment and material displacement. Our team can recommend highly functional blowers for you, depending on your functional needs. Visit our website for simple assistance if you need help choosing the proper fan. Why not check out our website to learn more about the centrifugal fan industry?